Writing about Writing
By ALICE SARMIENTO
Write something about the craft that is insightful and compelling.
Write something brave.
But it's raining, and you know how creativity can't be forced. At least that's what your artist friend said. Dammit. And that's what you have to fall back on when you're not chasing a deadline or a paycheck.
Speaking of paychecks, call up accounting. Find out that the name on my cheque hasn't been changed. Dammit! Briefly consider changing name in byline to match name on bank account. Decide this is stupid.
Briefly consider that what your parents said about finding a real job is probably true. Probably.
I'm not one to talk about parents extolling the virtues of deprivation and frowning upon the smug self-entitlement that writers often reek of. The image in my head of a writer dates so far back into my childhood that I can't even peg accurate dates or recall where we were living at the time. Before I equated writing with sitting in front of the computer until I started to smell, my idea of a writer was my Mom. She had a column in Parents magazine called The Single Parent, which was later axed by the editorial board because of the "negative ideas" it "promoted" about "the Filipino family". To say her writing then was rife with negativity was to call our family, with the proverbial Mom's house-Dad's house setup, negative. Given our fair share of sob stories and problems, the editorial board was probably right. Probably. But if there's anything I've learned from this lifetime of writing, it's that problems are usually a matter of perspective (except if you're homeless). True enough, all that negativity would eventually build my mom a career in short fiction.
We moved a lot when I was little, and the books—considered conjugal property in a relationship where anything conjugal was questionable—were always the last to be put away. In our first house in La Loma, Quezon City, there were dusty cabinets full of trinkets that had long displaced whatever memories they came with, leaving no room for all the goddamn books. Had there been a name and a recognized disorder for it back then, we would have been called hoarders, and literature was one the main problems. Again about problems, it's all a matter of perspective, and the perspective we took meant putting a bookshelf in the bathroom. "Toilet reading," we called the Stephen King and Tom Clancy paperbacks that filled the shelves meant for towels and soaps. Everything else was "literature," except for my R.L. Stines which mysteriously disappeared right after I'd read them.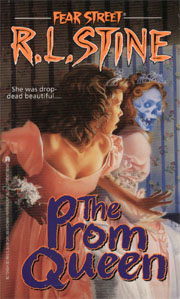 "We're not barbarians!" was my dad's exasperated response when I suggested that he get rid of a few obsolete law journals. "We don't throw out books!" And so along with our collections of YA and Dr. Seuss, they sat in stacks on the floor of a spare bedroom or a corner of the living room for months, until we just gave up and called that area "the library". Reading habits and objects of interest were dictated by whatever was left on top, and whatever was left on top provided for some very interesting, albeit awkward conversations.
"The buttcheeks of a young boy will fry in their own fat."
"…No. I, I don't-even-who told you that?"
"Jeffrey Dahmer. Sort of."
Despite being too young to understand unspeakable brutality and the finality of death, I read the whole Chronicle of Crime followed by Communist Military Machine and a paperback entitled Kids Who Kill because of the organized chaos of my parents' "library". "What does 'sodomized' mean?" I asked my first grade teacher. I forgot what she said, I think she may have deflected the question. I don't blame her.
But there were also magazines, and these didn't get mixed with the stacks, instead they piled up, covering any available surface or finding new uses: balancing wobbly furniture or as components of senseless but well-meaning birthday cards that looked like ransom notes. The words "HaPpy birtHday LoLa!" would float in front of Christopher Walken's face, adding punch to punctuation. Between my mom's subscription to The New Yorker, and my grandmother's subscription to Vanity Fair my regular diet of magazine reading was composed of work from the best writers. Not that I knew anything about this, I would open to a random page and be like, "Who the hell is Joan Didion?" blissfully unaware of the lasting effect this would have on future consumption. You write from what you've read.
I remember a computer that ran Wordstar, and my mom teaching me to access it through a simple code, (/something/dos/Wordstar:…I think) meaning I was either fairly competent, very convincing, or I was not that young. Left to my own devices, I wrote stories, ones that made fun of the partners at my grandfather's law firm and attempted to comprehend my parents separation, in the same vein as Beezus and Ramona and Harriet the Spy. They were utter crap because in spite of all the reading I had done, I still had never seen a picket fence, did not know what a paper route was, and had no nanny I could talk to the way Harriet talked to Ole Golly. The terrible screeching noise made by our ancient Epson printer seemed to affirm the inauthenticity that made my work so insufferable, as I pulled the pages from the tray and dropped them directly into the trash with nary a glance at their contents.
I was emulating not only my mother, but everyone whose work I had read; and at that age, I probably looked like I was trying too hard. Probably. But it was also at that age that I won my first award for "writing something"–in quotation marks because I cannot remember exactly what I wrote, but I can remember that it was about a pig with OCD and I ripped it off another story about another pig with OCD. Apparently, it didn't sound familiar to a bookstore called Young Minds, because they threw some money at my 8-year-old face for writing it. My sister has a more heartwarming story to tell, having won the same contest a couple of years before. Her story was called "My Little Sister and I".
These are images that should have put me on a seamless trajectory shooting straight for a life in writing: endless workshops, panels, an MFA, a life in academia. I got one out of four, ending up on the faculty not of any creative writing or literature department, but teaching fashion. Despite a bulk of the country's magazine industry owing its life to fashion, this was an industry that reveled and simpered in its own intellectual despondency and poverty of critique. One in which names like "Gucci Gang", and "Lady Gaga of the Philippines" were thrown around without any irony. But that's another story, and I've never written about fashion.
And there were the words, on blogspot, livejournal, wordpress, twitter, and tumblr, spreading faster than gonorrhea on a cruise ship. Did anyone even read what I wrote? This causes much confusion when grappling with the idea that seeing your work in print makes you a writer, when there is a clear difference between the publishing deal and the hours you spent hacking away at the keys, writing like a motherfucker. Somehow there was just not much of a choice but to keep going, but without a discerning audience, it's impossible to tell if you possess any discernible talent.
When the work is done, you may or may not get it published, and the exchange may or may not include a kill fee–what you make after a story is rejected, as if to say "we recognize the agony this caused you, but no thanks," thus cementing writing as a "real job". That writing is a real job is often questioned by people who don't write, don't intend to write, and have never written anything that wasn't required of them in order to get a grade at school or apply for employment. A real job is often defined as one that entails work, and many of the bizarre rituals accompanying writing could barely be called work. At least not in the conventional sense. But to a writer in the moment, nothing could feel more like work than writing. "Write in white heat," was useful advice. Write when it feels natural and the words spill out of you like raw energy. It was useful advice until writing involved deadlines and paychecks, these were times when a cattle prod felt more useful than any amount of white heat.
I began writing on the web, which keeps my status as a "real writer" debatable among the inhabitants of the Philippine literary scene, the "discerning audience" who held the license to rightfully judge my work from atop an ivory tower decked out in medals, trophies, and inclusion in anthologies. "But has she been published?" was among the questions asked at a meeting with Philippine PEN. The other question was "Has she won any awards?" My mom simply said "She has 'an award'," the prefix of "an" referring to the fact that I didn't have the kinds of awards worth mentioning.
Instead of competing, I became "an editor", in quotation marks again because I'm not sure where the licenses for these titles come from. This title was unabashedly self-proclaimed, manifesting in this website. Should writers even be editors? Writers edit their own work, that much is true, but if you are the editor of an entire body of work, should you be writing for it as well? That sounds like a stupid question, but put into practice, feels more than valid. I ask myself this with every revision and every time I've had to apologize for quashing an author's voice. Every cut is a merciless modification of someone else's work, someone's day spent staring at a blank page, trying to get the right words in, and here I come with my red pen: delete, delete, delete; reducing what was once a BABY! to a bleeding scrap heap.
"Edit in cold blood," was the other indispensable bit of advice. But my heart had gone soft in a creative industry where the worst thing you could be called was sentimental. "Let's write about ex-boyfriends and songs we like!" was the gist of the first calls for contribution. But these claims were easily voided by my role as an editor, where every cut I made was a tally on the asshole board. "You sound like a robot," said my friend Marla, after a particularly harsh evaluation of her work. I wonder what David Foster Wallace would say. What would David Foster Wallace do? And by wondering, does that make me a pretentious asshole? (But I am pretentious, and if I were any savvier at this html thing, there would be a lengthy footnote on that last sentence.) WWDFWD?
DAVE W'S CONDITIONS OF SUBMISSION:

(1) inform auth of Decision to Reject w/in 48 hrs of Decision;

(2) any/all rejected pieces are to be shredded, the shreds placed in a burn bag, then that bag emptied into a high wind at least ten (10) miles from any metropolitan area. we will be watching.
Wallace was the kind of writer who would rather have taken a kill fee, than allowed a piece to be published with more than 200 words changed, but that option goes out the window in circumstances where writers are lucky to get any kind of fee. "I can't remember when was the last time I picked up a cheque for my work." That was my mom, pretending to be thinking aloud, but she may have actually been warning me. Now, I look at bank statements and wonder which deposits came from which magazine. I wonder if it's worth the trouble to mail them receipts, see who'll respond. But that's just extra paperwork, extra writing, and I'm tired. Fatigue can be an excuse not to bother with the peanuts you're owed for a day's work, it probably can. At least it's enough of an answer when you have to ask yourself, "Should I brave the commute to pick up my measly cheque?" Yes. Maybe. Tomorrow.
But what remains after the fatigue, the heart hardening, and the lousy pay is that I started writing at 8 and never stopped; a fact that I find extremely daunting. At 8-years-old, it was just something I could do, and I didn't even know much more about it than the other things I was supposed to know at that age, things like Math and Tiger Beat. All I know now is that it's your story to tell, and it underscores every nuance and shift in tone that goes into each sentence. Does it really take 17 years to build a voice? Probably. What's definite is that 17 years is enough to turn a hobby into a habit, and while I can imagine a life doing something else, I cannot imagine a life where I am not doing this.
---
Alice Sarmiento wants you to know that the pay is not always lousy and that yes, she has been published and her mother is (probably) very proud of her. By all means, write like a motherfucker.